HISTORY
From an article in East Anglian Daily Times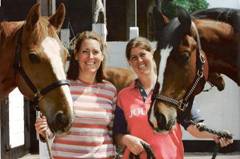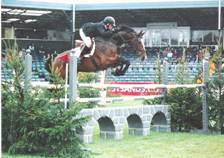 The story of Heather and Jemma Stennett is a tale of true grit winning through with the help of friends and neighbours.
In 1993, Heather and Jemma were just 18 and 21 years old respectively when their father, who was a farmer, died from cancer within six months of diagnosis. They inherited Cowpasture Farm – plus substantial debts. At the time Heather was an up and coming Show Jumper and Jemma was studying at the Harper Adams Agricultural College.
They were, by their own admission, young and green, but were determined that they were not going to let the farm go and were going to make it work. They formed a partnership that has stood them in good stead to this day.
Their father had a considerable amount of debt after his death. "He never let on just how ill or skint he was" said Jemma.At the time the farm had a suckler herd of Charolais cattle but these had to be sold to make a small impression on the debts the girls faced. Heather says, "Dad was always having brainwaves and trying something new. He had just built the Golf Range before he died. We inherited it but didn't have any golf balls, nor any money to buy them!" Times have changed and today the Golf Range is flourishing having been rented out and is benefiting from the skills of professional Robin Mann.
Cowpasture Farm was also providing livery for about 15 horses and had a contract to supply hay and straw. Some 150 acres of marshland was being rented as grazing and to provide hay and straw. Heather and Jemma had to sit down and have a real think about a way forward. Luckily their friends and neighbours rallied round and helped enormously.
The cattle went along with the sole male employee and Heather and Jemma were soon on a steep learning curve, not least learning to drive – and reverse – their worn out tractor and trailer!
Heather's passion and talent for horses and Show Jumping looked the best prospect for developing the farm and so it proved. Heather is now Suffolk's leading Show Jumper and rode to victory aboard Raja ll at the BEIB Winter Championships at Solihull. She also won the foxhunter class at the Suffolk County Show riding Mayday, a horse that was bred and produced at Cowpasture Farm.
In her early days, Jemma trained as a surveyor providing a reliable source of income, and worked as an adviser to farmers on how to diversify. Through her job she became aware of the Environmentally Sensitive Areas (ESA) funding and Cowpasture Farm became a beneficiary, allowing the girls to replace the ramshackle barbed wire fencing with electric – making it much more suitable for horses.
Today the livery business has expanded and has a large DIY livery yard catering for up to 40 horses. Heather has a separate yard along side this to accommodate her Show Jumpers. Other facilities include an outdoor arena, lungeing school, and a horse walker along with a horse solarium and massage treatments. Heather's show Jumping contacts have brought in a lot of trade and young horses have developed into highly competitive animals at Cowpasture Farm.
The farm also runs a number of competitions throughout the year, from dressage to jumping shows, allowing youngsters to compete in a friendly environment while developing their skills. Heather says she finds it really satisfying to see the progress they make, and tears turn to smiles before the end of the season.
"We have a really good head girl, Lindsey Baker. Horses understand her and she understands horses. We also have another asset in Helen Stewart." Heather adds.
Other ventures at Cowpasture Farm include a field which provides a site for wedding marquees. When there are no weddings booked the site is used for touring caravans, with permission to fish in the lake.
The Stennetts certainly have grit, and their blend of talent and hard graft has enabled them to overcome the debts they face in 1993. They can now look forward to a future with hard won peace of mind.